Leisegang Feinmechanik-Optik GmbH (Printversion): Products
Products
Leisegang quality criteria
The functionality of Leisegang colposcopes is based on over 60 years of experience within the field of colposcopy. Our colposcopes are constantly being developed so that they comply with the highest requirements of quality and flexibility.
Outstanding optical characteristics and simple handling, as well as the free integration into existing practice systems without any problems, predestine Leisegang colposcopes as ideal "companions" from daily routine investigation to complex treatments of laser therapy.
A large range of models and accessories make it possible to easily and economically adjust our colposcopes as required. Whether extremely bright light, straight or 45° tubus, single enlargement or magnification drum changer, photo or video documentation: Leisegang colposcopes offer the greatest possible flexibility in everyday work.
All Leisegang colposcopes possess a convergent observation path of ray, which is similar to the eye without optics. This guarantees a fatigue-free work, also with intensive use (l. design right).

Accurate fine focusing is achieved by ergonomically positioned adjustment drives for height control and focus. A comfortable working distance of 300mm makes it possible
to employ instruments for treatments under colposcopical view without any problems.
Leisegang quality criteria - an overview:
outstanding optics for optimal illustrations

bright, continuously adjustable lighting (illustration on the bottom right)

convergent path ray for working without fatigue

different enlargement stages

comfortable working distance of 300mm for trouble-free instrument employment for manipulations under colposcopical view

extensive, easy to mount accessories

convergent viewing beam ensures a fatigue-free work (illustration on the top right)

green filter for vascular examination

flexible to use

compensation for ametropia with tension rings at eyepieces (+7 to -7 diopters)

LED - the light source of the future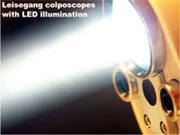 LEISEGANG Colposcopes - now with LED illumination