MWS MediaWorkStation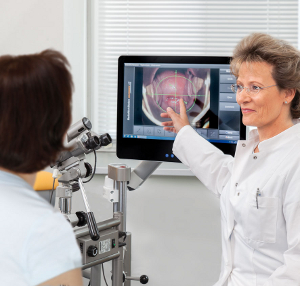 MediaWorkStation organises image and video footage easily and efficiently. The software was optimised for colposcopy in collaboration with leading international gynaecologists. The result is a highly intuitive user interface that ensures an easy workflow.
An integrated images atlas supports appraisal as reference. DICOM interfaces are optionally available (DICOM Push and DICOM Worklist). Including foot switch and agreement for technical support (12 months).
MediaWorkStation software is a class 1 medical device.
The following language versions are available:
German, English, French, Italian, Spanish, Russian, Turkish, Chinese
Basic Edition
Recording
Recording of single frames and videos
Preview of live image and frame capture with split display
Release by software, shutter release or foot switch
Annotating
Entering of free text or text modules
Text modules based on the current IFCPC nomenclature for colposcopy ("Rio de Janeiro", 2011)
Inserting of graphical markers
Mapping of colposcopical and histological findings
Exporting
Export as file with embedded patient identification
Direct printing of images with embedded patient identification
HTML reports including images and patient data
Data base
Structured recording in a data base
User-defined text retrieval
Automatic data base backup
Combinable with DICOM Push interface
Classic Edition
Features as Basic Edition, additionally amongst others:
Comparison of images and videos
Video editing
Import of images
User administration
GDT interface
Combinable with DICOM Worklist interface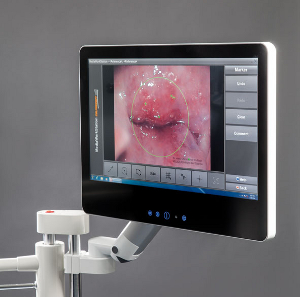 Panel PC with Touchscreen
Very slim and completely closed panel PC
Convenient touch operation, with onscreen keyboard
Full HD display with wide viewing angle
IP20
Hygienic design
Note:
For chair mounting a load carrying capacity of 32 kg is necessary!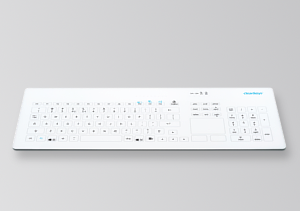 Keyboard
The alternative to touch function:
Cordless capacitive keyboardwith integrated touchpad, language: German
Completely closed "Gorilla"-glass surface, washable and disinfectable (IP65 at the front)
USB interface
Incl. wireless dongle, charging cable and plug with 4 adaptors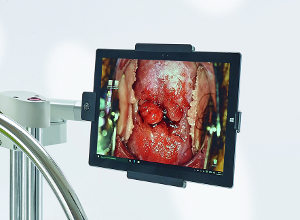 Tablet *
Space-saving solution
Display 12", 2160x1440,
WQHD
Multi touch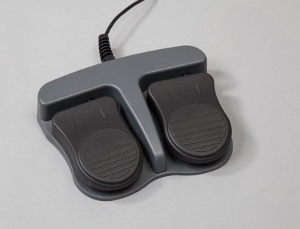 Foot switch
2 pedals
USB interface
Cable length 3m
* Picture may differ from the original